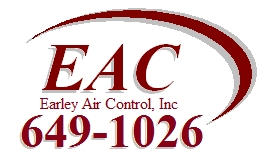 Earley Air Control,, Inc., 8042 Wards Lane,
Mobile, Alabama 36575

(251) 649-1026
Copyright © Earley Air Control, Inc. All Rights Reserved.
Designed and Hosted by

North Mobile Internet Services, Inc.
About Us
Earley Air Conditioning
service in Mobile, AL
Earley Air Control, Inc. (EAC) is a family owned
and operated business in Semmes, Alabama.
However the EAC Service area includes all of
Mobile and Baldwin Counties in Alabama.
Maintenance & Repair
The Earley team handles maintenance and
repair on all brands and models of HVAC
equipment. To keep your system in top
performance, we complete a professional
check-up to ensure that all equipment is
running properly and safely. Our
experienced engineers are
trained to catch problems
early and correct them
before they become more
expensive and difficult to
remedy.
Climate Control
Technology
Climate control technology is quickly
advancing. Earley Air Control can help you
choose the right technology to efficiently
manage your heating and cooling
environment.
Standby Generators
Extreme weather can make your access to
power vulnerable. Let us take the threat
away with standby generators for your home
or business.
View Generator Brochure

New Systems Solutions
When you need new heating and cooling
equipment, turn to us for the best in the
industry. Earley Air is proud to provide
Trane, Ruud and Lennox systems and offers
a 10-year warranty on new equipment.
Financing programs are available with
approved credit.
Ductless Solutions
We also install the Mitsubishi Mr. Slim
Ductless System, the perfect solution when
ductwork is not an option.
Learn More Here
Discounted Filter Program
Earley Air Control stocks a full fange of
filters, including hard to find sizes. Contact
us first to find the perfect product for your
system.

Insulation
Proper insulation is essential in maintaining
comfortable temperatures and controlling
heating and cooling costs. If you are unsure
of the condition or amount of insulation
needed, Earley Air Control will quickly
evaluate the state of your coverage and
advise on the options available to best cover
your structure.
Ductwork Cleaning & UV
Purification
Your HVAC system efficiency, as well as
environmental air quality, are dependent on
well maintained ductwork. Let the Earley
professionals keep your ductwork in top
condition with cleanings and the installation
of our Ultra Violet Purification System which
eliminates harmful particles, and their
odors, from your environment.
Plan
Earley
for your Comfort